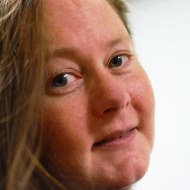 Donna Benjamin is the Executive Director of Creative Contingencies, a small Australian company specialising in customised web services, research, project facilitation and event management.
Donna is a passionate advocate of Free and Open Source Software (FOSS) solutions for small business and education. In particular, the use of web applications on the Drupal platform, open source graphics tools such as Inkscape and GIMP, and the Moodle and Sugar learning platforms.
Donna has taken on a range of leadership roles in the Australian Open Source community, sitting on boards and committees and organising events.
She is a regular speaker at open source events, and has twice been asked to keynote. In various capacities, she has also been involved in organising linux.conf.au, Open Source Developers Conference, Software Freedom Day, Drupal Downunder, DrupalCon, Libre Graphics Day, OpenEdge, and the Australian Computers in Education Conference.
In 2011 Donna instigated a campaign to Digitise The Dawn, Louisa Lawson's journal for Australian women. The Dawn is now available to all in the National Library Trove archive of Australian Newspapers.
She has been profiled by Lorna Jane Mitchell, Jacinta Richardson, Kathy Reid and Roland Gesthuizen for Ada Lovelace day and featured in Delimiter's Friday Five and Tech Stream's special on Women in Technology on Radio Australia. Donna is a regular guest on Technogaze, a technology show broadcast on Melbourne community radio station Joy94.9FM.

photo credit: Donna Benjamin - Photograph by Peter Lieverdink. License CC BY ND