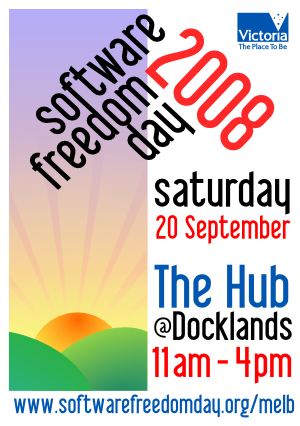 Saturday 20 September is Software Freedom Day. Creative Contingencies is providing pro bono assistance to this year's event management team.
The team has sourced and secured a new venue. The Hub@Docklands is the community centre for Melbourne's growing waterside neighbourhood, which has a great little cinema room. A series of interesting talks covering a range of topics around technology and freedom have been scheduled to run through out the day.
There's also a light filled Atrium where free and open source software demos will showcase the technology. Visitors can take home a CD filled with applications they can use at school, at home or at work.
To find out more about Melbourne's Software Freedom Day celebrations, check the website: http://www.softwarefreedomday.org/melb
Other teams around Australia and the world are also preparing local events, making Software Freedom Day a global extravaganza of Open Community Technology.
Software Freedom Day
Saturday 20 September 2008
11am - 4pm
The Hub@Docklands
17 Waterview Walk, Docklands, VIC

http://www.softwarefreedomday.org/melb