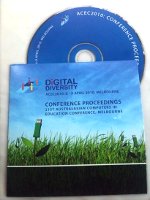 For over a year now, Peter and I have been working on re-developing our web based conference management codebase with Drupal. The opportunity to do this for a real conference with a real need arose when we were asked to join the technical committee for the 2010 Australian Computers in Education Conference.
I first registered the domain name for ACEC2010 on 12 December 2006 to put up a placeholder web page, and Creative Contingencies agreed to provide pro bono technical consulting to the conference in early 2008. We subsequently were engaged to develop the conference website in early 2009, but have continued to assist with a range of technical issues along the way.
The conference opens in a little over a week. The program chairs, Dr Donna Gronn and Dr Geoff Romeo have done an extraordinary job of sorting, sifting and arranging the program. The formal refereed call for papers opened in late February 2009, and the conference proceedings CDs have already arrived! Ready to be packed in to attendee satchels next week.
Visit the website at http://acec2010.info