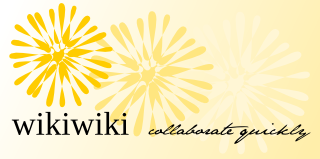 Cynthia Karena reported on using wikis in biztech section of The Age a couple of weeks back. In preparing her article she interviewed me about wikis, and followed up with some questions via email.
Creative Contingencies uses a wiki to liaise and collaborate with our clients. And we also host wikis for other small to medium businesses. Larger businesses will have a communications structure in place, but a wiki is a cheap  and simple way for smaller businesses to start working collaboratively on documentation tasks. We use Mediawiki - primarily because it's the same software used by Wikipedia, and many people are familiar with it. If they learn mediawiki syntax, they can also use that on other wikis.
Cynthia noted "Open source wikis are free" and asked if I had any "other comments on the benefits of open source wikis for small businesses, compared to commercial wikis?"
I responded by saying that Free is a tricky word. Open Source is actually more about freedom than about cost and there are many commercial open source products in the marketplace. The difference is that some of those offerings can be downloaded, and set up by a business for a pilot, a trial or even fully deployed for no upfront fees. That business then has the option to purchase associated ongoing support and services for that product, or continue to maintain it themselves with in-house expertise and free online community support (such as wikis, mailing lists and IRC channels).
Socialtext is an example of a commercial open source wiki product. But I'd hazard a guess this might be overkill for the average small business.
Mindtouch also has an open source edition of their wiki, so customers can give that a go and upgrade to the commercial version if they want enhanced features and support. In fact, when I asked my network on LinkedIn if they were using Wikis - Dave Kempe of Solutions First responded with a quick note saying "Our internal wiki is Deki Wiki. Great product"
Creative Contingencies hosts a Mediawiki to collaborate easily with clients and their customers for joint projects. Most of our clients are also small businesses, or non-profit groups and schools so we don't have access to corporate communications infrastructure to support collaboration. A wiki is a simple way to develop plans together or create documentation. Basically any text and image based task that requires two or more people to work together and track progress can be made easier by using a wiki.
We also use our wiki to work on projects in the open source community for events such as Software Freedom Day.
Mediawiki is the same codebase that Wikipedia uses as well as a range of other wikiprojects organised by the Mediawiki Foundation. But there are many others out there too. We like mediawiki because most people have heard of wikipedia, and are more likely to be familiar with its wiki syntax. But others prefer hosted wikis with a more sophisticated built in editor that works like a word processor.
Other open source wikis to download and install on your own servers include moinmoin, pmwiki and docuwiki
Wiki means quick. So wikis are brilliant for getting ideas recorded fast, but in a way they can be fine tuned and enhanced later. Wikis are web based, so no-one needs to install special software to collaborate. So whether your wiki is online on the internet, or on a local file server, people can instantly access it and collaborate just using their favourite web browser. Instant is key – collaboration can happen immediately without emailing documents back and forth, or keeping track of different versions or dealing with file format inconsistencies and everyone in the group can track the progress of the document via the history page.
The advantage to downloading an open source wiki and running it on your own server is that you control it – you are not at the mercy of the internet going down, or the wiki provider closing down. You know what's happening with back-ups, and you can determine exactly who has access to the data on your wiki.
Hosted wiki platforms in the cloud (not open source)
This wikibooks reference is a great place to go for more info!
http://en.wikibooks.org/wiki/Starting_and_Running_a_Wiki_Website