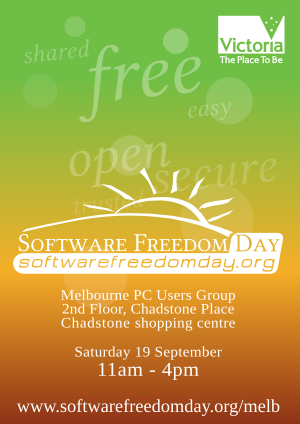 Saturday September 19 2009 was software freedom day. Creative Contingencies took part again as part of our commitment to the free and open source software community.
It's a challenging day.  Most of the challenge revolves around promoting the event, and knowing who to target. Our own focus is largely in the education and small business sector, so naturally we see strong benefits in using Free and Open Source Software in schools and small companies.  We had a very mixed crowd this year - with lots of members of Melbourne PC and Apple Users Society of Melbourne taking part for the first time. This is really exciting as we extend the software freedom message to these passionate computer groups, who may not have appreciated that they too could enjoy Free Software.
Brianna Laugher did a phenomenal job of designing and delivering a comprehensive program of talks and workshops, and Melbourne PC's facilities provided ample space and resources to make it all happen.  Unfortunately we were unable to harness the resources and energy to video the talks but will certainly make more of an effort to do that next year. Ultimately, time and energy are limited commodities when it comes to an event such as Software Freedom Day and I'm very pleased with what we were able to achieve.
Here's our program from the day:
Time

Room 1

Room 2

Lab

11.30

Installing Linux on your netbook - Wen Lin

Why is Free Software important? - Ben Sturmfels

Introduction to Wordpress - Kathy Reid

12.00

Moving to open source software - Daniel Jitnah

Beginning programming with Python - Minh Nyugen

12.30

How to back-up using Clonezilla - Wen Lin

Squeak - Tansel Ersavas

Basic hardware hacking with Arduinos - Andy Gelme

1.00

Image editing basics with GIMP - Andrew Thornton

Scratch - Tony Forster

1.30

Firefox including why and how to make it better - Joseph Wojciechowski

Build your own website with Drupal - Simon Hobbs

 

2.00

Practical version control - Duana Stanley

 

Advanced Wordpress - Kathy Reid

2.30

Lightning Talks!

3.00

Image editing with Inkscape - Donna Benjamin - slides

3.30
I myself spent half the day at Chadstone's community table, giving away balloons and CDs, and talking about open source software to chaddy shoppers. We had a wholly positive response.  A mix of curiosity, knowledgeability and a little disbelief. But everyone was delighted to be able to take a free CD or DVD filled with great software.
I'd like to thank all the volunteers, and community groups who got involved to help Melbourne participate in the global celebration of the Free and Open Source Software, and the people who make it.We are also very grateful to the Victorian Government for continuing to support Software Freedom Day which allows us to have CDs and DVDs produced to give away to the public. Whilst the software is available for free download from the Internet, many people still don't know it is there, or don't have access to fast broadband.  Through our involvement with Linux Users of Victoria we hope to follow up Software Freedom Day by promoting LUV's beginners workshops and mailing lists to help people looking to build their knowledge and skills with using Free and Open Source Software.