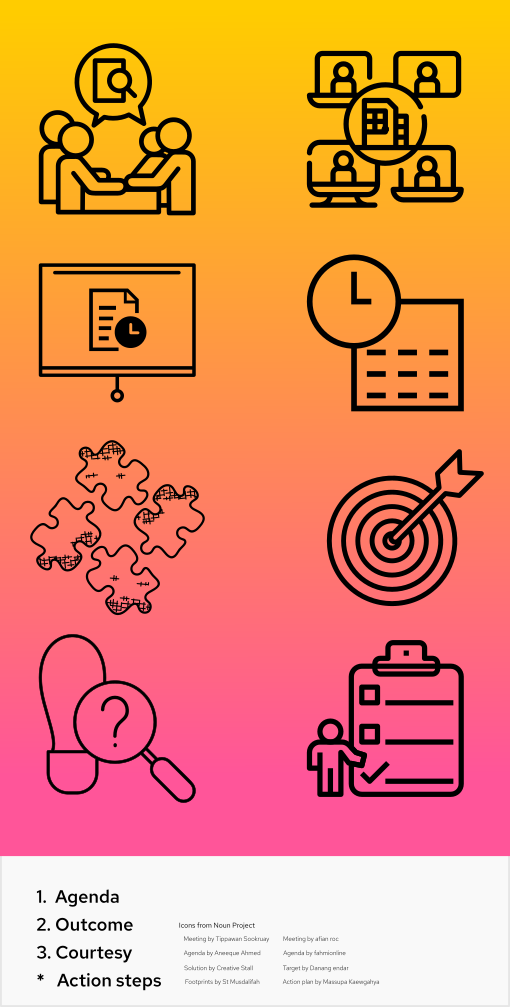 The intent of facilitation is to "make meetings easier."
It's a people process that allows participants to focus on their goals, but there are three easy hacks anyone can make to have better meetings.
The 1st hack - Agenda
Have an agenda, ask all participants to agree to, or amend the agenda at the start of the meeting.
Why? This gives everyone an opportunity to align their goals, and focus on the same desired outcome.
The 2nd hack - Outcome
Have a clear objective, or intended outcome for the meeting.
Why? When everyone is clear on the purpose, they are less likely to get distracted, or derail the meeting.
The 3rd hack - Good manners
Explicitly invite people to attend, welcome them when they arrive, and thank them at the end for participating, and paying attention.
Why? This gives everyone a sense of ceremony, and acknowledges the value of their time, and their presence as human beings.
Bonus - Action steps
Ask everyone to agree to take an action step, and promise to hold each other accountable for taking action.
Why? When people take action, they are more likely to feel the meeting was worth their time. When they hold each other accountable, they are more likely to collectively accomplish their goals.
Icons from The Noun Project
Meeting by Tippawan Sookruay
Meeting by afian roc
Agenda by Aneeque Ahmed
Agenda by fahmionline
Solution by Creative Stall
Target by Danang endar
Footprints by St Musdalifah
Action plan by Massupa Kaewgahya
Tags: